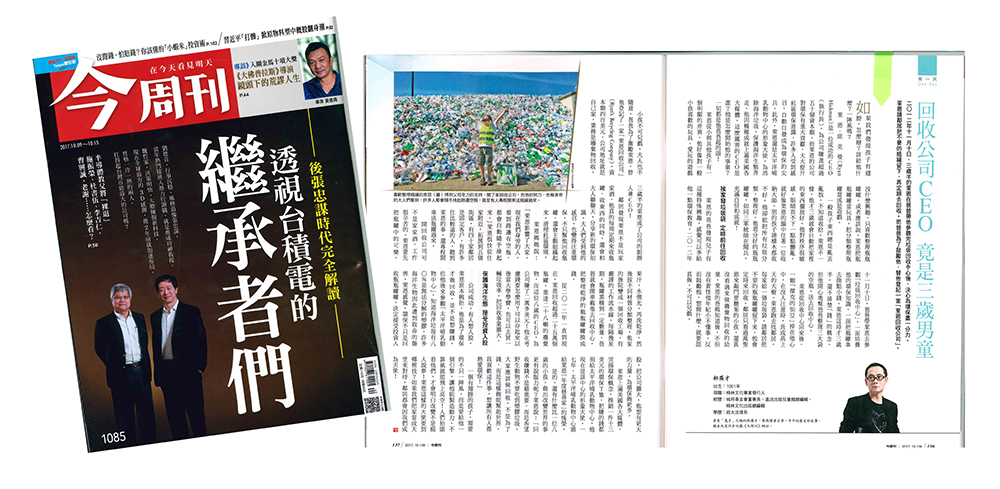 TRANSLATION: If our child has wings, what could we do? Giving him a gust of wind?
Ryan Hickman is a successful CEO who earns over $20,000 for his company. The money was 50 times the capital of company. Ryan's company makes contribution to the environment. It arouses environmental awareness in the community where it's located, and the residents become environmental volunteers. Ryan is also an ambassador of the Pacific Marine Mammal Center. He advocates for protecting the ocean by reducing trash pollution. His efforts inspire many people and he is interviewed by numerous media press. Who is Ryan Hickman? How did he start his company? It all started from his father.
When Ryan was 3 years old, he was not like any other kids because he was fascinated by trash and recycling. Recycling was his favorite game. He was good at sorting out bottles, cans, paper and plastics, and putting them into the right recycle bins. For him, the recyclables were like his soldiers and he was their commander. When the recycling was done, Ryan, like a commander reviewing the troops, looked at those categorized recyclables with confidence and accomplishment. Ryan's father discovered his son's special interest in recycling. On November 10, 2012, he took Ryan to visit a recycling center in California. For one thing, he would like Ryan to learn more about recycling and environmental protection. For another, Ryan could exchange recyclable items for cash. Ryan, who was only 3 and 1/2 years old at that time, didn't know much about money. But he was
very happy, because his father helped him bring three large bags of bottles and cans to the recycling center.
After the visit, a Jack's magic bean was secretly planted inside Ryan's heart, and it grew into a gigantic beanstalk. Ryan had a strong wish to do recycling, saying "I am going to pick up all the cans and bottles from everyone in the neighborhood." Ryan took actions. He knocked every door of neighbors, distributed trash bags, and asked them to save cans and bottles for him. He promised that he would come and pick up all the recyclables regularly. All the neighbors were impressed with his determination. As Ryan's parents knew their son's decision, instead of discouraging him, they told Ryan to pursue what he really wants to do.
Also, to show full support, Ryan's father registered a company named "Ryan's Recycling". The company was located at their house, and its business was recycling. 3-and-1/2-year-old Ryan became the founder and CEO of the company. With a capital of $400 to start the business, Ryan and his parents bought plastic trash bags, printed business cards and flyers, and spent some money on gas for the truck.
Ryan and his family went to their neighbors' houses and picked up the recyclables every week. They also shared environmental knowledge with the neighbors. Inspired from Ryan's action, all the neighbors began to do recycling. They also organized a group to clean up the community. Ryan's recycling service expanded to five neighborhoods, and forty families were their regular customers. Hearing Ryan's story, some people who lived far away would drive to Ryan's house and gave him bottles and cans.
Recycling was not an easy job. Ryan had to empty liquid from bottles and cans, cleaned and sorted them into the right categories. The backyard of Ryan's house became a recyclables storage center. Every few weeks, Ryan's family would bring a truckload of bottles and cans to a nearby recycling center, and exchanged for money. Since 2012, Ryan has recycled over 250,000 bottles and cans, which weigh up to 28 tons. Moreover, Ryan has saved $20,000 from recycling. The money will go toward Ryan's college tuition. But Ryan has another plan. He is thinking to buy a trash truck for his company!
Some people would like to make direct donations to Ryan's company, but Ryan felt that recycling is for helping the environment, not for making money. After visiting the Pacific Marine Mammal Center, Ryan had another thought. He was shocked by the fact that there were 80% of non-biodegradable wastes in the ocean, and many ocean animals died from plastic pollution. Ryan felt that he could do more than recycling. He began appearing on TV shows and radio programs and
talked about his efforts in saving the environment. He also designed a logo t-shirt for his company. All proceeds from the t-shirts go to support the Pacific Marine Mammal Center. Ryan became the youth ambassador of the Pacific Marine Mammal Center. In 2017, he receives from the center an honorable award "Philanthropist of the Year".
"It makes me feel good that I make an impact on the planet. I hope the people who send emails to me will recycle as well." Ryan said. What would be more inspiring than a 7-year-old boy's action to do recycling to save the environment?
For a child with wings, the only thing he needs isn't a gust of wind. What he needs is an engine so he could create wind by himself and fly high into the air. As people look at him from the ground, they would realize that changing the world is not a fantasy.