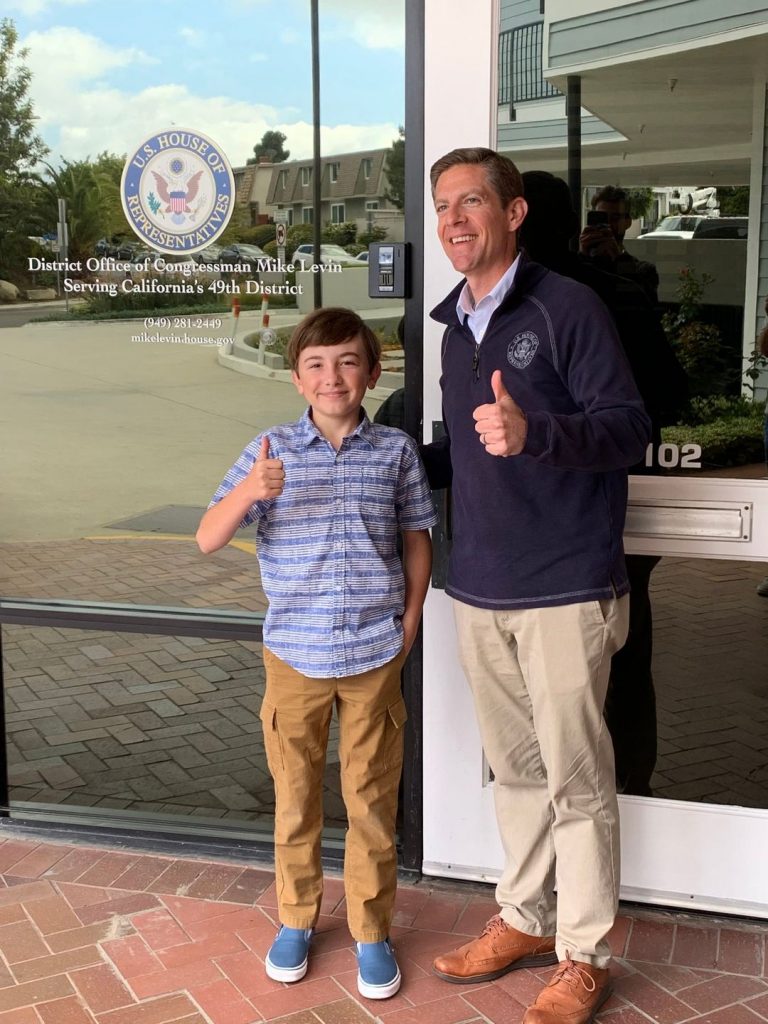 April 26, 2022
Rep. Mike Levin Celebrates Earth Day
by Honoring Local Environmentalist Ryan Hickman as April Constituent of the Month
Oceanside, CA – Today, U.S. Representative Mike Levin (D-CA) announced that Ryan Hickman, a 13-year-old resident of San Juan Capistrano, is his April Constituent of the Month. To celebrate Earth Day and National Volunteer Month, Rep. Levin is proud to recognize the remarkable work Ryan is doing to protect our planet and oceans and contribute to this unique and beautiful district.
At the age of three, Ryan started bringing bottles and cans to his local recycling center with his father. He then began asking his neighbors and friends for their recyclables. Now, Ryan is leading recycling efforts around the world and has been internationally recognized for his recycling company's work, including by Time Magazine and the Global Child Prodigy Awards. To date, Ryan has passionately and tirelessly worked to recycle over 1.5 million cans and bottles, preventing them from entering our waterways and oceans.
See below for Rep. Levin's statement recognizing Ryan Hickman in the Congressional Record:
"Madam Speaker, it is my great honor to recognize San Juan Capistrano resident Ryan Hickman as my April Constituent of the Month. Ryan began recycling for his family at the early age of three, and since then he has grown his passion to helping people all over world recycle and be better stewards of the planet.
"Growing up, Ryan pursued his passion of preventing bottles and cans from reaching the ocean, and he now leads clean ups all over the world. To this day, Ryan spends a part of every week sorting through cans and bottles from his customers and getting them ready to take to the recycling center. I am proud he has combined his passion of recycling and protecting the environment with volunteerism to support our community and conserve its beauty.
"During National Volunteer Month and on Earth Day, I am proud to celebrate the exceptional work of individuals like Ryan Hickman who volunteer their time and contribute to our unique and beautiful district. I'm so grateful for CA-49 residents who dedicate their lives to the betterment of our residents and planet, and I'm proud to honor Ryan Hickman as my April Constituent of the Month."
Representative Levin's Constituent of the Month program recognizes outstanding North County San Diego and South Orange County Residents who have gone above and beyond to help their neighbors, give back to their community, and represent the best of our country. Rep. Levin's March Constituent of the Month was local Olympic Gold Medalist Kaillie Humphries. His February Constituents of the Month were Cynthia and W.B. May, veterans and owners of Cynthia's Artistic Expressions in Oceanside.
To nominate a resident of the 49th District to be the Constituent of the Month, fill out this nomination form.
###