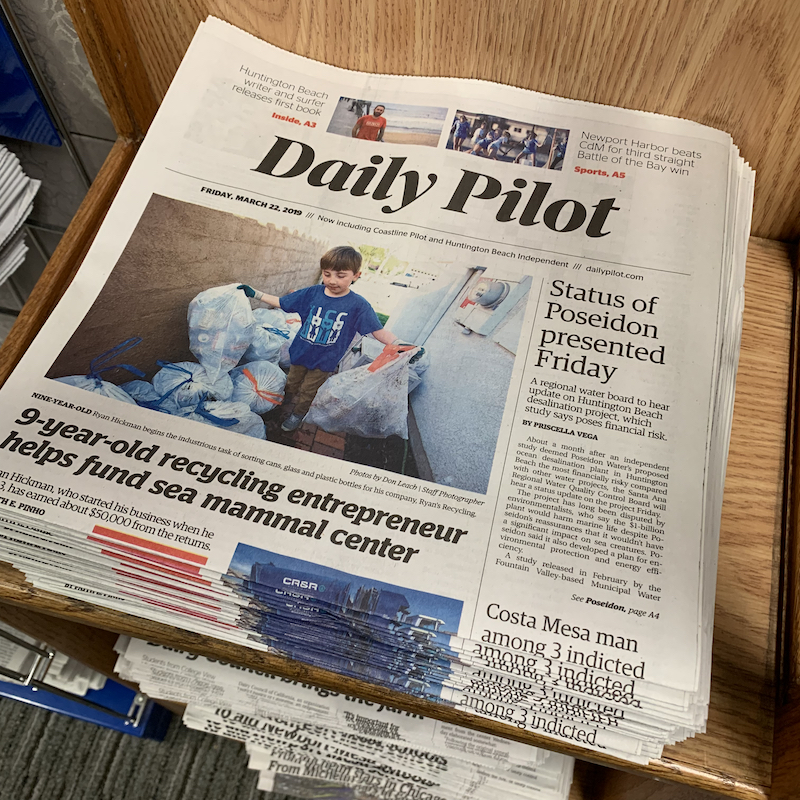 MAR 21, 2019 | 12:40 PM
"Lemonade, Diet Coke, Dr. Pepper."
It was just another Wednesday for 9-year-old Ryan Hickman, sorting bottles and cans from more than a dozen bags into several backyard bins bearing the logo of his Ryan's Recycling Co.
After six years on the job, Ryan has the recycling business down to a science. Every week he loads his dad's pickup with bags of recyclables from customers around Orange County — neighbors, family members, friends and even a few businesses, such as his aunt's golf club.
They drop off the truckload at his San Juan Capistrano home, where he sorts the plastic bottles, aluminum cans and glass containers and loads them into biodegradable bags to take to a local recycling center on the weekend.
He has recycled nearly a half-million cans and bottles and collected about $50,000 from the nickel-and-dime returns.
The business started when Ryan was 3. His father, Damion, took him to a recycling center to drop off a few household items. The pair returned home with about five bucks.
"I just kept recycling," Ryan said with a shrug.
Every penny goes into his bank account to save for a garbage truck or — if you ask his father — a college fund.
In 2016, the Hickmans began selling T-shirts sporting the company logo to people around the world.
"Everybody wanted to buy one," Ryan said, adding that some of his earliest customers were from India and South Africa. "We were like, 'Where are we going to give all this money to?'"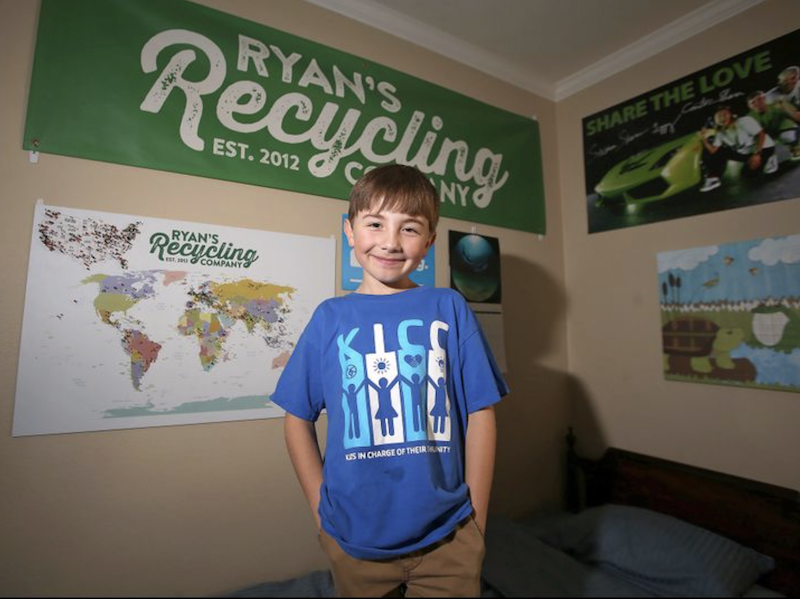 He decided on the Pacific Marine Mammal Center, a Laguna Beach rescue and rehabilitation center for sea animals. Three years ago, he gave the organization $13.30 — proceeds from the first T-shirt he sold.
"It was the cutest thing ever just to see him so excited," said Krysta Higuchi, the center's public relations coordinator. "Running into the visitors yard saying, 'I have money for the seals!' shaking some wads of cash."
Today, Ryan's website says he has donated more than $8,400 from T-shirt sales to the Pacific Marine Mammal Center. That's enough to pay for the rehabilitation of at least two sea mammals, said Stephanie Polito, coordinator for the center's youth ambassador program.
"This is why I support them, because they rescue seals and sea lions," Ryan said. "They're animals. Animals should be alive."
The mammal center also is one of Ryan's customers; he collects recyclables from it regularly. He also is one of its youth ambassadors.
"When people just start to see the good that especially young people are doing, it's hard to not be inclined to follow after that," Polito said. "His nature and the way Ryan is — it just makes people smile and it shows us how a little kindness can go a long way."
Ryan Hickman, 9, begins the task of sorting cans, glass and plastic bottles for his company, Ryan's Recycling, at his home in San Juan Capistrano. He has donated more than $8,400 to the Pacific Marine Mammal Center in Laguna Beach. (Don Leach / Staff Photographer)
Companies around the world have reached out to the Hickmans to collaborate with Ryan. Recycle Across America, an organization that advocates standardized recycling labels nationwide, brought him on this month as a volunteer spokesperson to urge community leaders to better support recycling. Later this year, the organization will take him to Denali, Alaska, to make a video about how to recycle in a national park.
"We believe that it will pull even further on the heartstrings of Americans and … possibly across the world," said Andrea Ruiz-Hays, director of strategic alliances for Recycle Across America. "It takes a youthful person to call us out and make adults [pay] attention."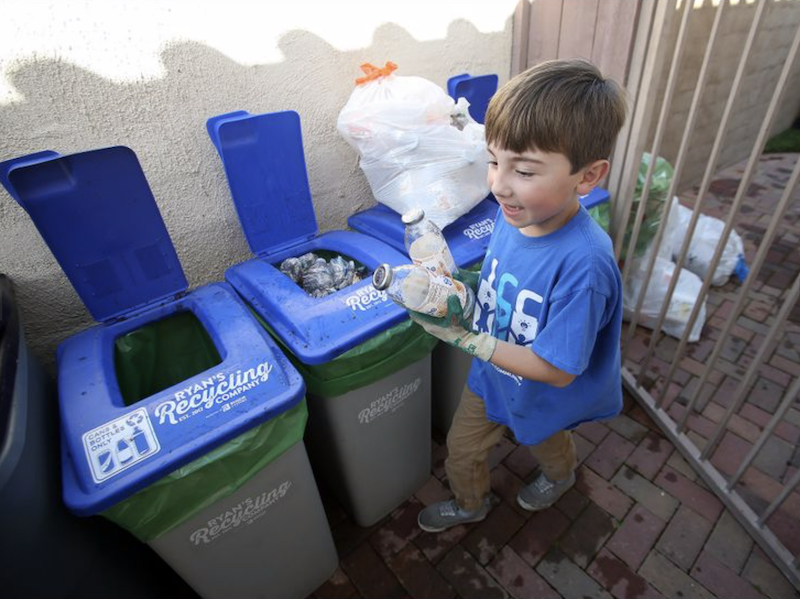 The Capistrano Dispatch did a story about Ryan in April 2016. A few months later, his dad posted a picture of him with his thumbs up in front of a sign spelling out $10,000 in dollar bills — his first major milestone.
Soon, news crews and other media were at his house. He appeared on the Ellen DeGeneres TV show in January 2017 and "60 Second Docs" a couple of months later, collecting millions of views on YouTube.
"I was like, 'I think he's going viral,'" said his father, who along with his mother, Andrea, shuttles Ryan to his various engagements, manages his hundreds of daily emails and oversees his media coverage.
Ryan has earned awards such as CNN's Young Wonder in 2017 and, this month, the annual Young Hero Award from Long Beach's Aquarium of the Pacific.
"He's always got something going on," Damion Hickman said.
Ryan doesn't seem to mind the onslaught of attention.
"It wasn't something I wanted or didn't want," he said. "I never thought about it."
When he's not running his business, he plays with toys in his room — usually garbage trucks — and bounces on his bed below a Ryan's Recycling banner and a giant $10,000 check given to him on the DeGeneres show.
His says his favorite thing in school is recess, but he recently got a nearly perfect score on a math test.
He also has become good at geography, his father said. A map of the world hangs in Ryan's room, covered in pins from people who have contacted him.
"It's just fun, I guess," Ryan said.
Related