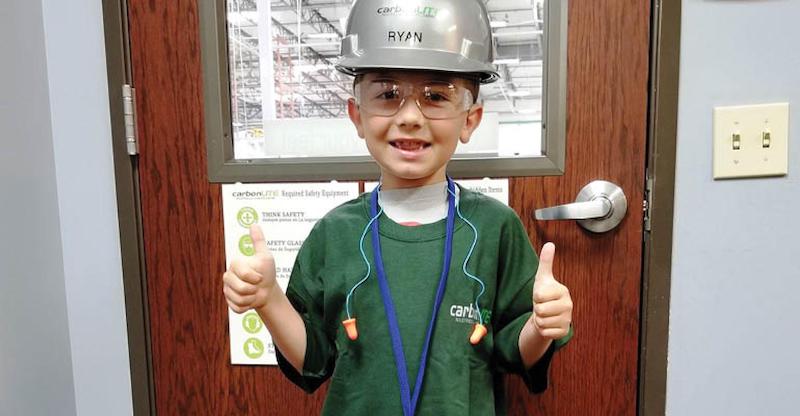 Yesterday we toured CARBONLITE in Riverside, CA. They issued a press release and Ryan was featured on a few different recycling industry sites today. Channel 4 News (KNBC) also interviewed Ryan. See press release shown below:
Leading Recycling Firm in So CA "Hires" 7-Year-Old Recycling Superstar
CarbonLITE's "Employee Orientation" for This Future Environmental Leader Takes Place at Its Riverside Plant – the Largest U.S. Manufacturer of Post-Consumer Resin
(Los Angeles, June 20, 2017)  – President Trump may have withdrawn the U.S. from the Paris climate accord, but a leading recycling firm and an entrepreneurial boy, both based in Southern California, aren't letting that stop their efforts to reduce carbon emissions by recycling plastic bottles.
CarbonLITE (www.carbonliterecycling.com) – which processes 2 billion plastic bottles annually at its bottle-to-bottle recycling plant in Riverside – today "hired" 7-year-old Ryan Hickman as an (honorary) employee, complete with his own employee badge, shirt and hardhat.
Then Ryan received an orientation tour of the 220,000-square-foot facility, which is the nation's largest manufacturer of post-consumer food-grade PET resin. (PET is the clear, strong plastic commonly used for water and soda bottles, and the resin can be used to make entirely new PET bottles and other products like food containers.)
Ryan already runs Ryan's Recycling Company (https://ryansrecycling.com/), which to date has recycled approximately 232,000 bottles and cans, earning about $15,000.
"Ryan is an exceptional young man committed to making a difference in protecting our planet – and who knows, maybe he will be the CEO of CarbonLITE one day," CarbonLITE Chairman and CEO Leon Farahnik said.
Farahnik added that recycling is the only responsible option for plastic bottles and containers. Products made from PET are recyclable and highly sustainable, and PET can be recycled numerous times:
For every pound of recycled PET flake used, energy consumption is reduced by 84% and greenhouse gas emissions by 71% (industry data)
Recycling a ton of PET containers saves 7.4 cubic yards of landfill space (industry data)
Since its Riverside plant opened in 2012, CarbonLITE has reduced carbon dioxide emissions by approximately 75,000 tons and avoided using 370,000 cubic yards of landfill space
Ryan lives in San Juan Capistrano in Orange County. He also sells his company T-shirts online and donates all of the profits to the Pacific Marine Mammal Center (in Laguna Beach) – nearly $4,700 so far.
The CarbonLITE recycling facility process (http://www.carbonliterecycling.com/process/) includes six stages: bale breaking; bottle cleaning; bottle sorting; washing; solid state polycondensation; and final packaging.